Since September is nearly upon us, I thought it would be fun to create an Autumn Winter 2014 Essentials Collection - all from the UK High Street. As I'm on a student budget, all pieces are wearable with other clothes I already own, making these items very versatile. Luckily I'm drawn to items that are classic and timeless so I'm not too affected by short-lived trends. Additionally, I always think - What would Audrey Wear? Her style certainly doesn't date.

This post is all about building a capsule A/W wardrobe that won't require another student loan and epitomizes cold weather chic.

1. Black Chelsea Boots
An essential for work / sixth form / University. I lived in mine last year and they can be styled up or down, depending on the occasion. My favourite way to wear them is with a skater dress, black opaque tights and a woolly knit. My pick here is from Topshop - Month Chelsea Boots, £45, however I recommend Clarks if you're looking for something more long-lasting.
2. Printed Scarf
Nothing says Autumn quite like a warm printed scarf. Whether it be winter florals, houndstooth or simple stripes, the bolder the better! I'll be teaming my tartan scarf with a black leather jacket, a plain white T-shirt and - of course - my Chelsea Boots. This one is from Zara - £19.99 - but New Look stock ones just as bold.






3. The Statement Coat / Jacket
This Miss Selfridge Duster Jacket is the perfect transitional piece from the end of the UK 'Summer' going into Autumn. It's not quite a coat but it's more weather-resistant than your typical cardigan. It could also be worn under a coat in the Winter. At £35 I think I may be tempted to invest in this soon..





4. The Blazer
Sticking with the theme of jackets, no A/W wardrobe would be complete without a structured blazer. This wine-coloured piece from New Look is a great buy at £27.99 and I wouldn't be surprised if it's earned it's way into my wardrobe. I can see myself wearing this on days at University when I want to look sophisticated but not too corporate. Audrey would have LOVED this.





5. The Slogan Tee
In the past few months, Zara have released a selection of beautiful T-Shirts and this has to be one of my favourites. It's so Audrey. It screams 'stylish', 'elegant' and 'classic monochrome'. And at £12.99 it's not going to break the bank.








6. The Pastel Knit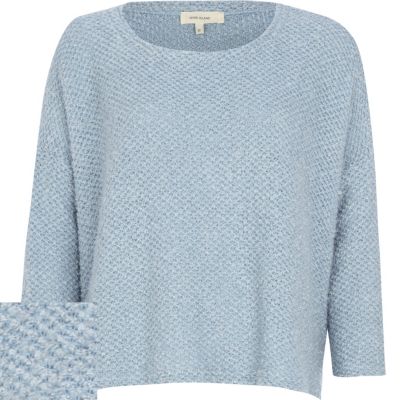 Pastel isn't going anywhere this season and this cute jumper would look perfect with a white collared blouse underneath - the ideal layering piece! For me, it would definitely be a lecture outfit due to it's ultimate comfort and cosiness. It's £25 from River Island.






Hope this was useful! Happy shopping

xxx
<a href="http://www.bloglovin.com/blog/12794031/?claim=zd64ge5sxfb">Follow my blog with Bloglovin</a>