One of my favourite things about Christmas has to be festive jumpers! Whether it's santa print, reindeer print, fairisle or cutesy slogans, I'm a fan. However, when it comes to wearing Christmas jumpers in public, there's a fine line between winter chic and festive disaster. My personal golden rule is to pick a jumper style I would normally wear which also has a subtle Christmas element to it. Don't get me wrong, I love the OTT jumpers too, I just personally wouldn't wear them out of the house - I'm not quite brave enough to wear a 'Mrs Claus' print jumper out and about just yet. These are my 5 top picks from the UK high street.

1. This snowflake patterned jumper from Asos caught my eye immediately. The snowflake print and fluffy texture make it the perfect addition to your winter wardrobe.

2. I'll admit my mum actually bought this jumper last week but I'm very jealous she found it first. The fairisle print is beautiful and Oasis quality have always been excellent in my experience.

3. Although I wish Topshop stocked this design in other colours too, I still think this Christmas tree jumper is a great design. The sequinned Christmas trees are stylish without being over the top and I'd happily wear this around town.
4. Again, this New Look jumper design isn't exactly subtle but I couldn't resist including it! The price is fantastic and would look great with red lipstick and skinny jeans.
5. Finally, this gorgeous grey reindeer jumper from River Island is a winner for me. The casual style means it'll suit a variety of body shapes and the grey tone will look good on anyone!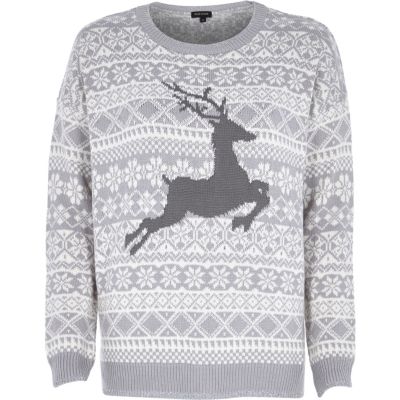 I hope you enjoyed this post and have a great week. I've been a bit quiet on the blogging front recently due to laptop issues and moving back home for the Christmas break but I'm determined to start blogging more regularly this month.
Are you a fan of Christmas jumpers? Which one is your favourite?